Dial Gauge Automatic Tester Model DGT-20G
When using a dial gauge, it is usually mounted on a jig for inspection. To perform its periodic
inspection, it needs a lot of processes more than the other measuring instruments and further
time-consuming troublesome works to graph the inspected results are required.
Model "DGT-20G" contributes to decrease such troublesome works extremely.
By only setting a pointer of dial gauge and just turning on a memory switch, gauge testing is
automatically made.
Everyone can use it with great ease.
(1) Easy operation
By only setting a pointer on the scale of dial gauge and just turning on a memory switch, measured data is processed
by a micro-computer and its results are automatically printed out.
(2) Reducing eye strain
Only fix your eyes to a pointer of dial gauge!
Since you do not read the scale of a gauge tester, measurement for a long time will not tire your eyes.
(3) Reducing your inspection time extremely
It can reduce your inspection time from one third to one fifth shorter compared with the conventional method of
inspection since this tester has no necessity of reading, recording, and judging the error values.
(4) High precision
Usual calibration is not necessary because of the optical glass scale capable of maintaining the stable accuracy with
less aged deterioration. Stable inspection is possible because a spindle is not a revolutionary type but a straight one.
(5) Register function
Once the measuring range, pitch, and values for judgement are registered, speedy inspection can be done just by
calling out these items. There include the items already registered by the maker(ROM)and the ones to be originally
registered by users(RAM).
(6) Manual mode
Measuring items can be set by manual setting. It will be effective to inspect such a gauge that you do not usually use.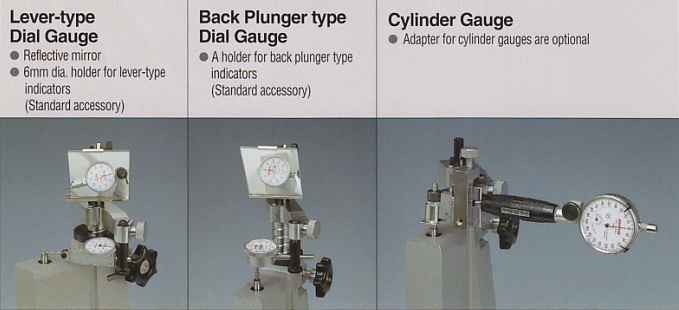 Applicable gauges
Dial gauge
( based on JIS B 7503 )
Special type gauge
( based on JIS B 7509 )
Lever-type gauge
( based on JIS B 7533 )
Cylinder gauge
( based on JIS B 7515 )
All of these have to be typical Cylinder gauges with standard probe Depth.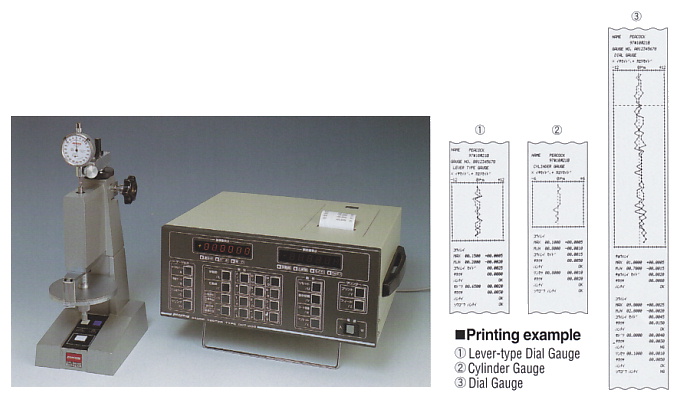 Dimensions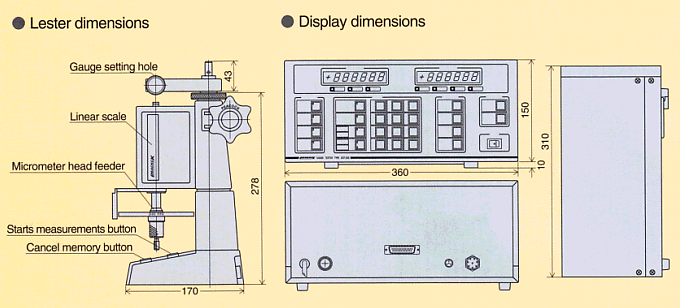 Specifications
Model
DGT-20G
Measuring Range
0 - 20mm
Resolution
0.2 µm
Accuracy
±1 µm
Standard Scale
Incremental linear scale
Feed Portion
Micrometer head
Display Portion
Standard value Error value
Applicable gauges
Dial gauge ( based on JIS B 7503 ) Lever-type gauges ( based on JIS 7515 )
Cylinder gauge ( based on JIS B 7515 ) Special type gauge ( based on JIS B 7533 )
Minimum pitch
1 µm ( 0.5µm is impossible )
Maximum input points
200 points
Registered code
24 points
User register code
About 130 points ( input by users )
Selection of printing
Print all data Print only results Print line graphics
Judgement
By setting the values for judgement, NG value is printed in red letters.
Display function
Standard value is displayed on the left.
Error value is displayed on the right.
( Narrow range, wide range, or return error is automatically switched. )
Key input function
Measuring date, measuring person, control number code number ( within ten characters )
Preset function
Measuring a long stroke gauge of 20 to 40 mm
Recording paper
Plain paper roll 57×ø50mm available in the market
Power supply
AC100V }10% 50/60Hz
Standard accessories
Attachment for lever-type dial gauge --> 1 Pc.
Attachment for back plunger dial gauge --> 1 Pc.
Mirror ( for lever-type dial gauge ) --> 1 Pc.
Connecting code 1 pc., recording paper 1 roll, ink ribbon
Options
Attachment for cylinder gauge ( DGT-CC )
Attachment for back plunger dial gauge
Panel in English, Display in inch
Foot-switch ( for memory )
Storing data in a PC, development of software
Data output

Based on RS-232C output
Transmit entire data upon test completion
Connector D-Sub25P
Transmission method
Asynchronous style
baud rate
4800 Bps
start bit
1 bit
stop bit
1 bit
code
ASC‡U 8 bit
parity
none